Originally posted by
starlite_gone
at
Join the Go Natsume 伍! campaign - an international Natsume Yuujinchou fan appreciation project
Show your support for Natsume Yuujinchou by joining our
Go Natsume 伍 campaign!
We deeply love Natsume Yuujinchou and want to give back some of the happiness this series has brought us. This project was born to let the Japanese creators know that we as fans would support a possible fifth anime season and to thank them for giving us such a wonderful series. Now you can send us your pictures and your messages and know with certainty that a copy will be delivered to Midorikawa-sensei.
To participate and send them a message, just take a picture meeting these criteria:
1) dress as a youkai (could be a shadow youkai) or represent Natsume's world somehow
2) have some sort of official merchandise or official manga in view
3) include the campaign motto "Go Natsume 伍!" or "Go Natsume 5!" somewhere in the picture
and send it to us using the
Submit form on the Go Natsume 伍! Website
. We'll send a printed fan-compiled Yuujinchou with all the photos and messages to Midorikawa-sensei, Brain's Base and Hakusensha.
But that's not all!
In a few days we will also start the "Weekly Episode", where a selected picture will be chosen and accompanied with a short story as the first "episode" of the "Natsume Yuujinchou Go - Fan Season."
There are a lot of other ways to get involved in this campaign even if you don't want to take a picture of yourself or can't get official merchandise.
Visit our site for
more information and to read about the other side projects
.
Please help us show the Japanese creators that this is a series that has touched fans the world over! And please help us spread the word! We have pages at
Twitter
,
Twitter Japan
,
facebook
, and
Tumblr
, and our site is available in 14 languages. You can find banners, icons, and more at the
Support Us section
.
Repost this to your journal and make Natsume happy :)
Here's to wishing for a new season of Natsume Yuujinchou! Support the Go Natsume 伍! campaign!

Is it obvious that I just finished watching Hotarubi no Mori E last night? And even though I've read the manga, I couldn't stop myself from letting a few tears fall when I saw Gin's reaction at his disappearance.
I know a lot of Natsume Yuujinchou fans would love to see this masterpiece from Midorikawa-sensei. Thought I'd share the quotes I noted down while watching. I'm sure I'll write a review about this soon.
Without further ado, Hotarubi no Mori E quotes
here
.
Houzukigami

The best thing about this episode is the preview of the Moon Splitting Festival! The coming arc is sure to make this season the best one yet, especially since this is already the third major manga arc included in Natsume Yuujinchou Shi.
Only a few more episodes until this season ends. A full review is definitely on my to-do list.
My friend and I both attended a seminar last year which made us realize that writing down one's vision will help you achieve it. I made sure I completed mine before 2011 ended. By putting this vision board in a place where I could always see it whenever I'm at home, I am reminded of these goals that I had promised myself I would do. In order to practice my writing, I committed making one review and one story a month. So here is my story for January:

That little pure white fluff I've always dreamed of touching... Unfortunately, being in a tropical country does not give us the privilege of seeing or touching snow. But if I do get to travel to a country where there are four seasons, I'd love to go on a winter and see it for myself. But I guess I have to prepare myself for a below zero temperature...
Who is the biggest bully in your life? One response chosen at random will win an Amazon Kindle. [
contest details
] (sponsored by
)
In truth, anyone can be a bully. While I can make a list of those who I believe are bullies in varying degrees, what is more important is to recognize that even the simplest joke, if repeated for a period of time, can already be a form of bullying. Each word and every little action matters...
This is actually a re-post from my blog,
hikaru's notebook
. Read and comment!

In anticipation for the latest chapter, I decided to reread 07-Ghost manga from Chapter 1. In doing so, I was able to notice quite a character that had been lurking around Teito Klein. This is none other than Kal.


Kal was first shown in Chapter 28, listening in on the conversation between Chairman Miroku and Chief of Staff Ayanami. We see him next in Teito's dream of the past in Chapter 39.5 where it is revealed that he is Miroku's Begleiter. In Chapter 58.5, Kal makes another appearance when he picks Teito up for a mission. The latest chapter he appears in is in Chapter 62 where he is eavesdropping again, this time on the conversation between the Black Hawks and Ayanami.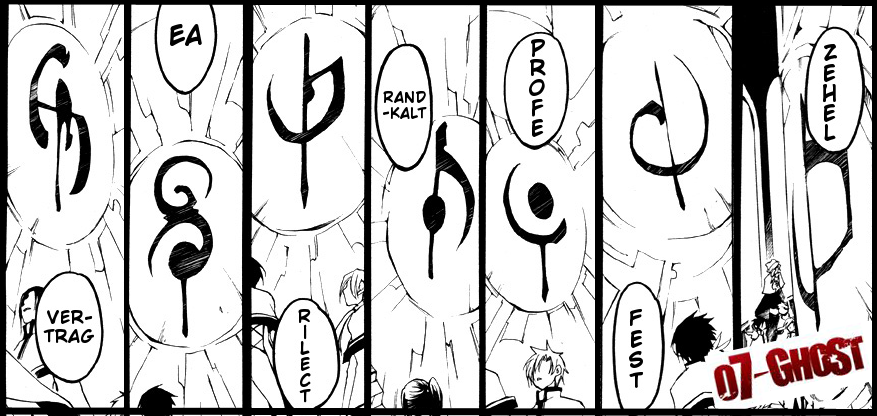 The big question here is, could Kal actually be one of the the two unidentified ghost Randkalt or Ea?
When Teito was still in Miroku's custody, Kal was in a position to do things in Teito's best interest. For instance, when Teito and Mikage were attacked in Chapter 58.5, Kal was there and it appears that he got rid of the enemy who was eyeing Teito's soul. In Chapter 39.5, Kal was also kind enough to let Kurena, the maid who took care of Teito before he entered the military academy, know how Teito had been doing saying:
"He deserted the military about a month or so ago. He's searching for his true self by any means."
Kal would not have said that line without knowing Teito's true identity, probably from Miroku. However, if he knew Teito's identity as the Prince of Raggs and master of the Eye of Mikhail, why did he not let him escape? One possible reason is his position. If he became Miroku's Begleiter as a spy for the church, helping Teito would risk revealing his identity. Another reason is to train Teito until he became strong enough to at least protect himself. Though the military isn't using the best method and Miroku's mansion wasn't exactly a home Teito would love to go to, it was a great chance. And despite his blood sullied hands, Teito's noble soul remained untainted anyway. Miroku's desire to destroy Teito's kindness by having him kill was a failure as well.
Instead of letting Teito escape, why not let the church know of his safety then? While Kal is in a position where he can gather a lot of information, as the Begleiter of one of the highest ranking officials in the military, a single wrong move could spell disaster for his whole mission. This is assuming that he is actually one of the 07 Ghosts or at least a part of the church.
I think we'll be seeing more of Kal in the upcoming chapters, especially since Teito and the others are on their way to the First District where the military headquarters, Hohburg Fort, is. There is no doubt that they will meet each other again. Will it be as allies or as enemies?




What kind of face will he make then? What kind of eyes are hiding behind those bandages? I definitely can't wait to see more of Kal and ask him, "Are you a Ghost?"

Current Mood:

accomplished